Apple and Cinnamon Sponge Pudding
HokiesMom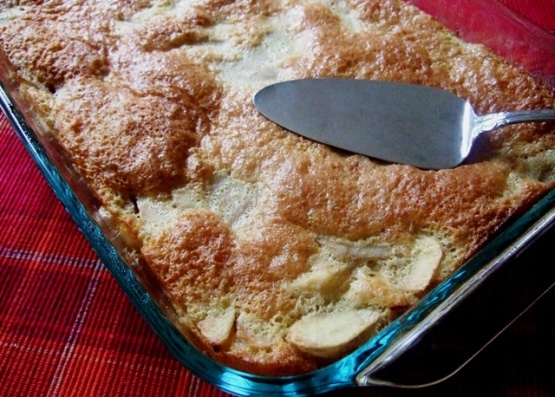 From a mag I took a copy but forgot to note which mag. Times are in accordance with recipe directions. They recommend to use 1 x 800 grams of can pie apples (in place of granny smiths) and microwave on high for 2 minutes, then top with sponge mixture (fruit must be hot when topping with sponge, or sponge will not rise during cooking. Would also add cinnamon to canned apple if not already done so by the manufacturer. Serve with custard or ice-cream. IMPORTANT NOTE - prepare sponge mix while apple is cooking (apple mix needs to be hot).

Pat - I can't even wait to upload the photos before I post the review! This is a FABULOUS recipe! I'm so enjoying this for an afternoon snack!! I followed your instructions exactly and it all worked out perfectly. I started the eggs once the apple mixture started to boil and everything finished out right on time! Served with frozen vanilla yogurt and I'm set. Now I have to figure out how much I really want to share! Tagged in Newest Zaar Tag and also using photos for the Apple A Day Photo Forum Event for October! This is a HIT and deserves 10 stars ********** !!!!
Preheat oven to 180C (160C fan forced).
Grease a 2 litre (8 cup) ovenproof dish.
Combine apple, cinnamon, 2 tablespoons sugar and 2 tablespoons water in a large saucepan over moderate heat and cover and bring to the boil and then reduce heat and simmer, partly covered, for 8 to 10 minutes or until just tender.
Remove from heat and keep warm.
Using an electric mixer, beat eggs in a medium bowl for 5 minutes or until thick and pale, gradually add 1/2 cup of sugar beating well after each addition until sugar is dissolved and then beat in vanilla.
Sift flour over egg mixture and then using a large spoon, fold until just combined, take care not to over mix.
Spoon HOT apple mix over base of prepared dish and then pour sponge batter over fruit mix.
Bake for 30 minutes or until sponge is risen, golden and springs back when lightly touched.
Dust with icing sugar and serve at once with custard or ice cream.