vrvrvr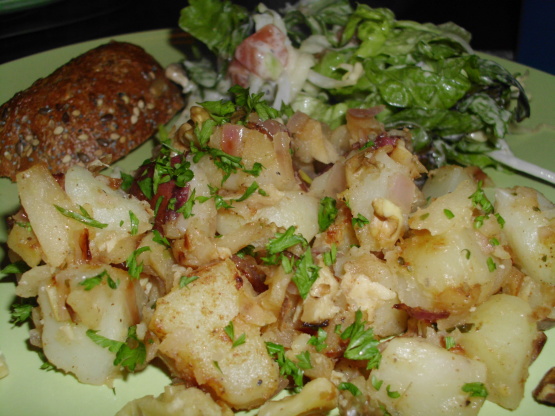 From Cooking Light. Per 1 cup serving: 226 calories, 5.6 g fat, 18.1 g protein, 26.3 g carb, 2.9 g fiber, 45 mg cholesterol.

I cooked it exactly as the directions suggest, and this was possibly the BEST chicken recipe I've ever made. Not only was it inexpensive, but it was absolutely DELICIOUS, and the entire family loved it (a family who hates onions and is VERY picky I might add!). It tasted like fall in a skillet. Perfection! We will be eating this many times, I'm sure! July 2009 - We made this again today with bratwurst instead of chicken. YUM! Hubby said it was perfect, and I have to agree!
Heat 1 1/2 teaspoon oil in a large nonstick skillet over medium-high heat.
Add in onion and apple; stir/saute 7 minutes or until mixture begins to brown.
Spoon mixture into a large bowl.
Add potato and remaining 5 ingredients to the bowl; toss well to mix.
Heat 1 1/2 teaspoons oil in skillet over medium heat.
Add apple mixture and pat into an even layer in skillet.
Cook, without stirring, 2 minutes.
Stir gently, cook 2 minutes or until potatoes begin to brown.
Serve right away.