KateL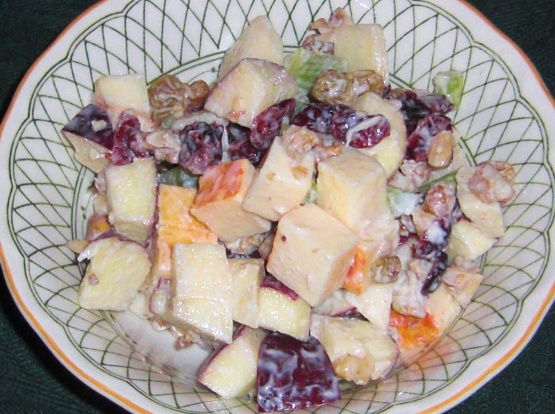 Adapted from a recipe I found on the UKTV FOOD website. This is a great lunch box alternative to sandwiches, and one that children could easily make for themselves. Except perhaps mixing the yoghurt with the cinnamon and honey. Or you could enjoy this as light meal or as a side-salad. I'd suggest Granny Smiths or Fuji apples. For some reason, Zaar wouldn't allow me to include this information in the ingredients. I left intact - from the original recipe - the virtuous low fat natural yogurt alternative but if you're more interested in flavour than in being totally virtuous, especially if you've never tried it, use divinely creamy Greek yoghurt and don't forget the cinnamon and honey! Anyway, if you were totally virtuous, you undoubtedly wouldn't be eating cheese at all!

Very nice, crunchy and tasty fruit salad.
Wash, but do not peel the apples, remove the core, quarter and then cut the apples into triangles or cubes, mix at once with the lemon juice.
Add the celery, raisins or craisins, walnuts and cheese and mix together.
Flavour the yogurt with a little cinnamon and honey and mix well, and then mix the salad and yogurt together.
Put the salad in your lunchbox and refrigerate - or serve.