Apple and Cheddar Tuna Salad
Diana 2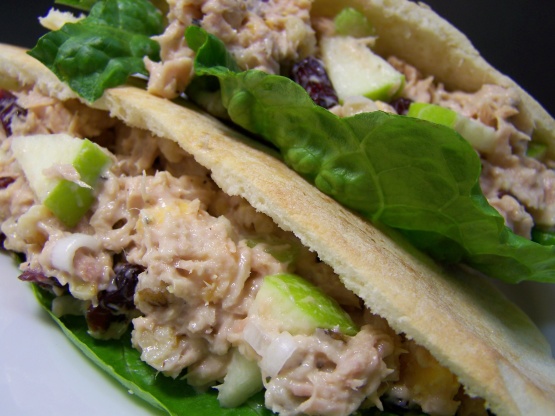 Found this recipe on a Hellman's mayo coupon card. Sound delicious, light and refreshing. Posting here for safe keeping. When I make it, my preference would be to use the tuna in the foil packets (no draining necessary). Feel free to use your favorite brand of products. I suspect this would be good using chicken instead of tuna too or served over lettuce, etc :) If you try it, I hope you enjoy it!

We also had to leave out the dried cranberries, but really enjoyed this tuna salad. We will make this again. Try it, y'all!<br/>Follow-up: Made this again, this time with 7 ounces of tuna, Miracle Whip instead of mayo, golden raisins for the dried cranberries, 1/2 of a chopped Gala apple, and two thin slices of yellow onion. Yum, yum, yum all over again!
Combine first 8 ingredients in a bowl.
Stuff pita bread halves with tuna mixture and enjoy!