Apple and Cheddar Cheese Muffins
Chouny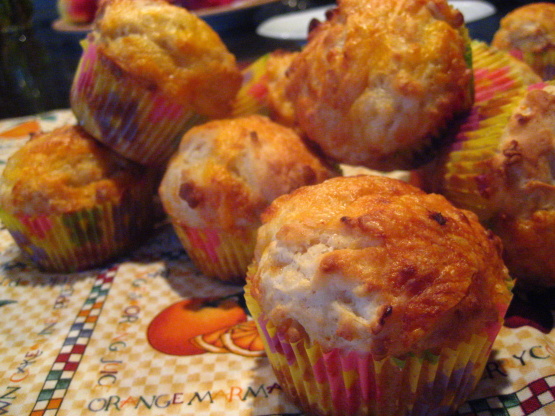 A flavorful muffin recipe posted in response to a recipe request from the Robin Hood Flour company.

These were pretty good, though I would probably double the apple next time for a moister muffin. Great flavour combination!
Preheat oven to 400F.
Grease muffin pans.
COMBINE flour, sugar, baking powder, baking soda, salt, cinnamon and cheeses in large mixing bowl.
BEAT egg, buttermilk, oil and apple together thoroughly.
ADD liquid ingredients all at once to dry ingredients.
Stir just until moistened.
FILL greased muffin cups 3/4 full.
SPRINKLE tops with 1/4 cup cheddar cheese if desired.
BAKE at 400°F for 18-23 minutes or until top springs back when lightly touched.