Apple and Cheddar Burgers
Boomette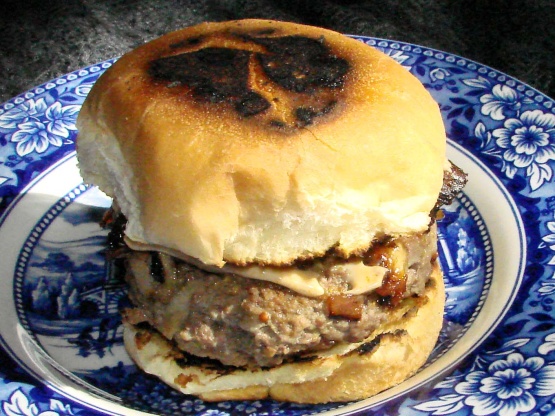 These are a fantastic and refreshing take on a plain burger.

Made this whole recipe, but made half of it into the suggested 4-inch patties & the other half into 6 much smaller patties! I'd just made some Cheesy Breakfast Buns & used some of those buns for the small burgers for lunch along with a bowl of soup, while the larger patties were held over for suppertime! Great tasting burgers, these, & a very nice keeper of a recipe! [Made & reviewed for one of my adopted chefs in this Spring's Pick A Chef event]
Combine beef, onion, cheddar, mustard, salt, pepper and apple in a large bowl and form into four (4-inch) patties. Grill over medium heat or broil, flipping once, until done to your taste, 6 to 8 minutes. Or, spray a large skillet with cooking spray and cook over medium heat, 6 to 8 minutes.