BarbryT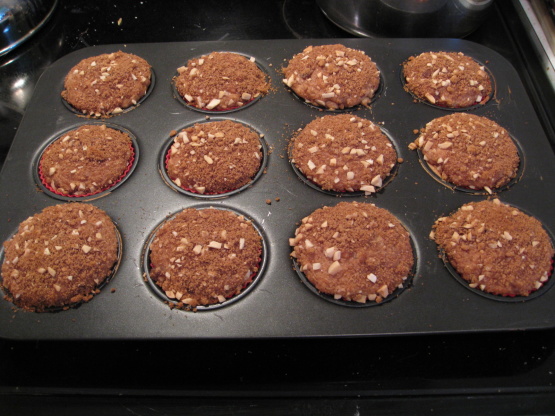 I had some almond flour (labeled as almond flour/meal) that I wanted to try, but I couldn't find a recipe that was really what I wanted, so I whipped this up patching a bunch of recipes together. Surprisingly, these came out great! If you don't have any almond flour, substitute regular flour. I had some ground nut/sugar/cardamom topping hanging around that I used, but feel free to leave the top bare or add the optional crunch topping listed below.
Preheat oven to 350. Grease or line a 12 muffin tin.
Whisk the flours, sugar, baking powder, salt, and spices in a medium bowl.
In a small bowl, whisk the milk and egg until beaten. Add the applesauce and mix to combine.
Pour wet ingredients into dry. Add the chopped apples and optional nuts and stir to combine.
Pour batter into muffin tins.
Mix crunch topping ingredients in a small bowl and sprinkle topping over unbaked muffins.
Bake for 20-25 minutes, until cooked through.