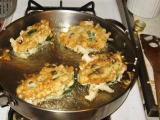 This is a classic Appalachian meal. Not especially healthy but cheap, uses up leftovers, and very satisfying! When I was growing up, we would (individually) eat gravy bread several times a week -- as a result, we never had any leftover gravy to feed to the dogs. It was also the reason that we never had any bread heels that went to waste. If you've never tried this, then I'd say that you're in for a special treat, especially if you're a "meat and potatoes" type of person. Enjoy! big pat.
Directions
Mound up your torn pieces of buns and/or bread on a pre-warmed plate. Pour the gravy over it.
Sprinkle some pepper on top of it to suit your own tastes.
Most Helpful
Talk about stick to your ribs !!! What a special treat on a cold day. At the end of any not so great day this will fix everything !! I store my gravy flat in a zip lock bag with the air squished out - then once it is frozen flat, it is easy to take out and cut off just the amount you need and pop the rest back in the freezer.
Beautiful recipe. We do this too, especially when the meat is gone but you're still hungry. Almost always end a meat and gravy meal with bread. It's really just a vehicle for the gravy, because we must remember that gravy is not a beverage.

This is a true classic. My old man ate this for dinner in Central PA at least once a week, and I'm eating it as we speak. We call it "down-home" or "comfort food", now, but this is a food that the poor ate due to necessity -- it just happens to be delicious. Good stuff.