Anzac Biscuits With Macadamia Nuts
Mulligan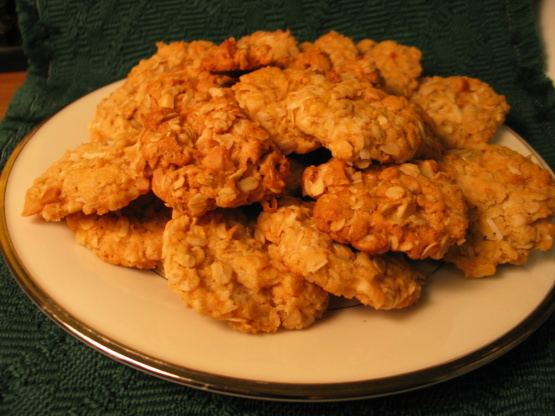 Something different; not tried so the time is just a guesstimate. You need to allow time for the toasted macadamia nuts to cool before cooking them; not sure how long that would take.

Delicious biscuit! I used gluten free all purpose flour but otherwise followed the recipe to the letter. As I made them smaller, I got 48 biscuits. Baking time at 325 degrees was 9 minutes in my oven. Thanks for sharing!
Made for ZWT 8 / Aus/NWZ for the Lively Lemon Lovelies
To toast nuts: Put them in an ungreased, shallow baking pan in a single layer. Bake at 325 for 3 - 5 minutes, stirring once halfway through (or just give the pan a good shake). Once you start smelling them or they are a golden brown, take them out of the oven. Don't leave them in the cooking pan; put into another cool pan/plate to cool. Chop them.
Combine the flour, rolled oats, sugar, coconut and cooled macadamia nuts.
In a small saucepan, combine the water, honey and baking soda. Bring to a boil, then stir in the butter. Set aside to cool for 5 minutes, then stir into the flour mixture with a wooden spoon.
Place tablespoons of dough onto the cookie sheets lined with parchment. Flatten slightly with the back of the spoon. Leave a little room between cookies. Bake at 325 for 9 to 12 minutes (perhaps up to 15 min for crunchy). Remove from the baking sheet to cool on wire racks.