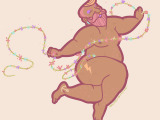 This is a very versatile spice rub for any meat you'd like to roast : pork, beef, poultry, or even tofu steaks for vegan people. The coriander in the recipe gives a touch of freshness that balances the sweetness, saltyness and spicyness of the other ingredients. It is good on steaks, roasts, grilled or broiled meat. This recipe requires a spice grinder, but if you don't have one, you can use store bought ground spices.
Directions
Put all the ingredients in a spice grinder, and grind! (You may have to grind it in a couple batches : in my grinder it takes 2 batches.).
When the spices are ground and well combined, rub on the desired meat and cook.
TIPS : You can rub and hour or two prior to cooking, or even the day before. If you do that, wrap the meat closely in Saran Wrap, and refrigerate. That way, the meat will me infused with all the flavors instead of them all resting on the surface! Also : the spice mix can be made in large quantities ahead of time, Simply store it in a tightly closed metal or glass (not plastic or wood, since it lets the flavours evaporate) jar, away from light, preferably in the refrigerator.
Reviews
Most Helpful
Made this to use on some pork chops & the rub gave a wonderful flavor & aroma to the meat! Loved the combo of spices that you have here, & I'll be keeping the recipe around! Many thanks for sharing it! [Made & reviewed for one of my adoptees in this Spring's round of Pick A Chef]