Nif_H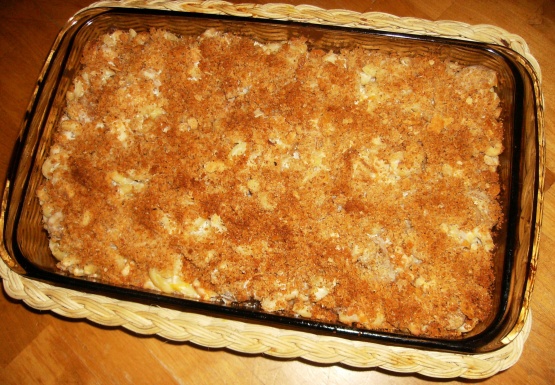 I found this recipe at Pinchin Your Pennies. I got it from a fellow couponer on . She got it from Tightwad Gazzette. The Goodie is optional as it is useually more expensive. I love this recipe as there are many different casseroles you can make. My family really enjoys this recipe. I find that it is best to preboil the potatoes till fork tender before using them. As for the binder I've used sour cream and creamed soups together before with great success as the casserole is creamy and not dry.

Top Review by Nif_H
I can throw together a pretty good casserole, but it was really nice to have the measurements all written out and some new suggestions for ingredients (almonds). This is what I used for this one: 1 large cooked chicken breast (diced), 1 can whole mushrooms (cut in half), 2 cups (when dry) cooked macaroni, 1 1/2 cup sour cream, sliced almonds and some cheddar cheese mixed in with it all. I topped it with some parmesan and toasted bread crumbs. I used garlic powder, pepper and seasoning salt for seasoning, but I would recommend using a lot more. That's it! This is a TERRIFIC recipe for beginner cooks especially because you are pretty much guaranteed to have the ingredients on hand. I tagged this recipe for the "I REDommend Game".
Main Ingredient

Second Ingredient

Starchy Ingredient

1 -2

cup thin sliced potatoes or 1 -2 cup cooked noodles or 1 -2 cup cooked rice

Binder

1 1⁄2 cups cream, sauce or 1 1⁄2 cups sour cream or 1 can soup

Goodie

1⁄4 cup pimiento or 1⁄4 cup olives or 1⁄4 cup almonds or 1⁄4 cup water chestnut

Topping

potato chips or cheese or breadcrumbs
Mix all the Ingredients together in a bowl.
If the casserole seems dry add 1/2 cup milk or stock.
Place into a buttered casserole dish.
Bake at 350 for 30 to 45 minutes.