Any Flavor Turkish Delight
anat7avi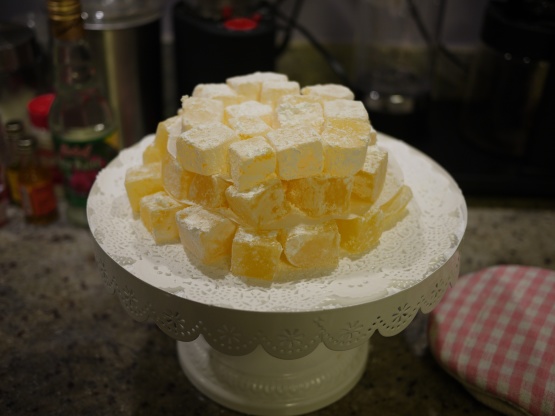 This appealing candy is easy to make at home. Rosewater can be found at specialty food stores. When the sugar syrup boils, coat the inside of the saucepan with a brush dipped in water to prevent sugar crystals from forming.

Although the concoction had to be stirred for an hour it was a very easy candy recipe to make. A few hours after coating the pieces in the sugar/cornstarch mixture, all the coating had melted and the outside of each piece had become a gluey mess. I laid the pieces out on a rack and let them dry for a few days. Then I made a new coating, 50-50 sugar and cornstarch which is a bit starchy but doens't melt. Before serving (or giving as a gift) I will shake some more powdered sugar over the pieces. I will probably make this recipe once a year before Christmas. It is too dangerous for the waistline to make candy often!
Oil a 9-inch square pan. Line with plastic wrap and oil the plastic wrap.
In a heavy saucepan over medium heat, combine the sugar, 1 1/2 cups of the water, and the lemon juice. Stir until the sugar dissolves and the mixture boils. Reduce the heat and simmer gently, without stirring, until the mixture reaches the soft-ball stage (240°F on a candy thermometer). Remove the pan from the heat.
In a second large heavy saucepan over medium heat, stir together 1 cup cornstarch and the cream of tartar. Gradually stir in the remaining 3 cups of water until no lumps remain. Stir constantly, until the mixture boils and is a thick, gluey paste.
Slowly pour the hot sugar, water, and lemon juice syrup into the cornstarch mixture, stirring constantly. Reduce the heat and simmer, stirring often to prevent sticking, for about 1 hour, or until the mixture has become a pale golden color.
Stir in the rosewater and tint as desired with food coloring. Pour the mixture into the prepared pan and spread evenly. Cool to room temperature and let stand, uncovered, overnight to set.
Sift the confectioners sugar and the remaining 1/4 cup cornstarch onto a large cutting board. Turn the Turkish delight out and cut into 1-inch squares with an oiled knife. Roll pieces in the sugar mixture to coat well. Store in an airtight container with sheets of waxed paper, dusted with the sugar mixture, separating every layer.