Bayhill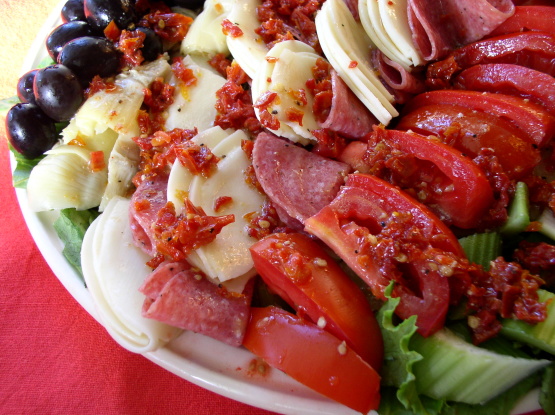 This is a delicious side dish salad! If you find arugula too peppery, make the salad with mixed baby lettuce instead. Also, for a meatless version, omit the salami and add mini mozzarella balls, which I love. Recipe is from Woman's World.

This was great! I needed an antipasto for 20 people and was really looking for a guide more than a recipe. This really worked and the salad was a HUGE success! I used the Italian Salad Dressing recipe here at Zaar, and made these adjustments: No celery, 1/2 arugula and 1/2 romaine, jarred mediterranean salad (artichokes, baby corn, red peppers, etc.) fresh mozzerella balls, peppered salami, and added pepperoni as well. I'll do this again for sure. Thanks for the inspiration!
In bowl, whisk together dressing and sun-dried tomatoes; reserve.
Arrange arugula on platter.
Top with rows of celery and tomatoes on one side and olives and artichoke hearts on the other.
Fold slices of cheese and salami into quarters; arrange in center of salad.
Drizzle salad with dressing.