Antipasto Pocket Sandwich
VickyJ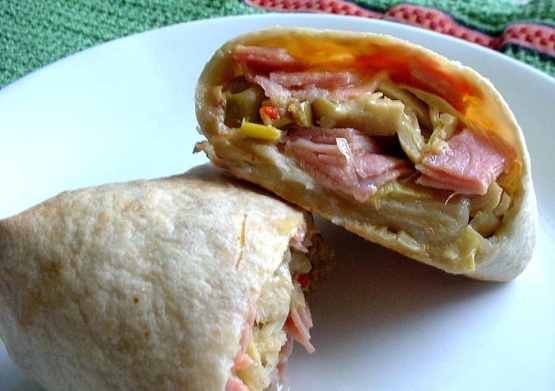 I came up with this for lunch yesterday with ingredients I had on hand in the fridge. It was very tasty. You can be flexible with the ingredients.

I made this for breakfast today and loved it! I used pepperoncini slices, green olives, provolone and added 2 slices of pepperoni. Thanks for a quick, easy and tasty sandwich, Vicky! (I love all your sandwich ideas.) :)
-Preheat oven to 375°F.
-Place a piece of foil on a sheet pan, and treat with nonstick cooking spray.
-Microwave tortilla for 20 seconds on high power.
-Place vegetables in center of warm tortilla and roll up egg roll-style, and place seam-side down on sheet pan.
-Cut two slits in top of sandwich.
-Bake for 20 minute.
-Let stand for a couple of minutes.
-Cut in half and enjoy.