Bev I Am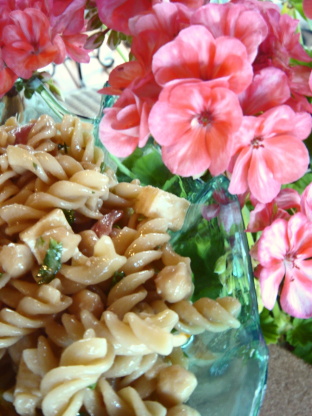 This pasta salad is adapted from Gourmet Magazine and tastes like it came from an Italian Deli. Update: I wanted to add that I like to double the dressing and add more before serving.

Top Review by JFitz
I thought the marinade for this salad was fabulous. Next time, I will double the marinade because I thought mine was a little dry. Any leftover marinade I would like to try with some chicken. I would also try using whole wheat pasta and some artichoke hearts to see how that would be. I have tried other recipes from Roxygirl and they have all been good which is why I tried this one. Once again, she did not disappoint. Thanks again, Roxygirl
In a kettle of boiling salted water cook the rotini until it is tender and drain.
Refresh the pasta under cold water and drain well.
In a blender blend the garlic, the mustard, the vinegars, the water, the oil, and salt, to taste, until the dressing is emulsified.
In a very large bowl toss the pasta well with the dressing and stir in the sun-dried tomatoes, the mozzarella, the garbanzos, the salami, the Tuscan peppers, the red pepper flakes, and the parsley.
Chill the salad, covered, for 1 hour.
The salad may be made 2 days in advance and kept covered and chilled.