Anticuchos (Peruvian Beef Kebabs)
racrgal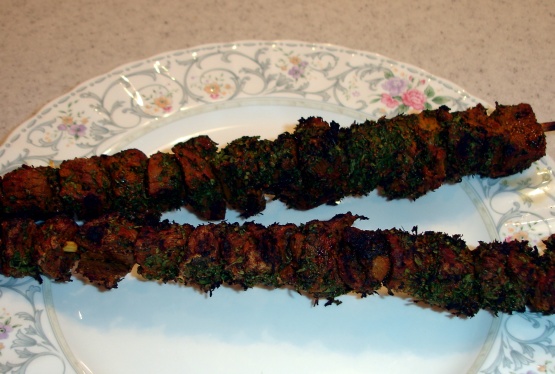 From Cooking Light "These spicy kebabs are enjoyed day and night in Peruvian restaurants and at the pushcarts of street vendors. If you live in an area with a large Peruvian community, you may be able to buy whole or ground aji amarillo. If not, use hot paprika in its place, as we did in testing the recipe. We also tried Spanish smoked paprika, which you can find at www.tienda.com"

In Peru this is traditionally made with Beef Heart, which believe it or not has alot of great flavor. I agree about the salt, you should lighten up on the salt to allow the marinade to bring out the flavor of the meat instead of overpowering it. Go easy on the rub, most people would simply use the marinade unless you prefer more spice.
To prepare the beef, combine first 7 ingredients in a large bowl; toss well.
Cover and chill 3 hours.
To prepare fiery rub, combine 1 teaspoon paprika, 1 teaspoon salt, 1/2 teaspoon pepper, turmeric, and parsley.
Prepare grill.
Remove beef from bowl, discarding marinade. Thread beef onto each of 6 (10-inch) skewers.
Press fiery rub onto beef.
Place kebabs on grill rack coated with cooking spray; grill 6 minutes or until desired degree of doneness, turning once.