Tisme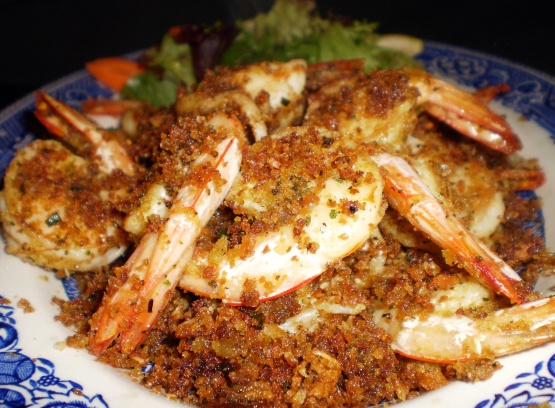 This recipe was cooked by 10 year old (yes that is right just 10 years old) Anthony in the first Australian Junior Masterchef.

Top Review by Tisme
I made this recipe for DD and DH today.
Both enjoyed the prawns cooked this way, although both thought the recipe needed some sauce.
I did not have sour dough bread, but had some crusty croutons to use up, so I used these instead, the breadcrumbs did turn out a little darker using them, but still they still worked quite weel. Although this was the only change to the recipe.
So quick and easy to cook, and both DD and DH enjoyed the prawns cooked this way.
Thanks for another great way to use prawns Pat.
2

slices sourdough bread

80

ml olive oil (1/3 cup)

6

garlic cloves (thinly sliced)

2

chilies (small red deseeded and finely chopped)

1

kg prawns (green or raw peel with tails intact devein)
1⁄2 cup basil leaves (finely shredded)

8

slices crusty bread (to serve)

8

lemon wedges (to serve)
salt and pepper (to taste)
Preheat oven to 180°C.
Remove the crusts from the sourdough bread, then roughly tear bread into pieces and place bread in the food processor, cover with the lid, then whiz until you have coarse breadcrumbs.
Spread the breadcrumbs over a small oven tray, then bake for 5 minutes, then remove the tray from the oven, then give the breadcrumbs a stir and then bake for a further 5 minutes or until dry, but not coloured, set aside to cool.
Heat oil in a large frying pan over medium high heat and add the garlic and chilli and cook stirring for 30 seconds and then add the prawns and cook, turning for 4 minutes or until just cooked.
Add the breadcrumbs and basil and cook for 1 minute or until combined and well coated and then season with salt and pepper.
Serve with crusty bread and lemon wedges.