Anthony's Favorite Stuffed Shells (Lite-Bleu)
2Bleu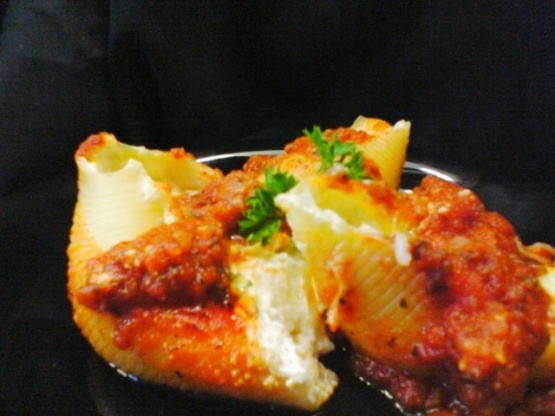 This is a healthier version of Anthony's Favorite Stuffed Shells. We've reduced the calories down from 656, the fat down from 34.4g, and the carbs down from 47.7g. All Lite-Bleu recipes are complete meals that we designed for our weight loss diet. Please visit our homepage for more info.

We really enjoyed this pasta dish! I had manicotti shells on hand so I used an 8 ounce box. The shells do tear so I would suggest undercooking them a bit. Filled the shells full and the extra cheese mixture I had I spread on top of the stuffed shells than poured the rest of the spaghetti sauce over. Used Prego Chunky Garden tomato, onion, and garlic flavor and ran out of mozzarella cheese so added about a handful of shredded parmesan. Loved the light creamy cheese mixture in the pasta shells! Didnt miss having meat in the sauce and will make this again.
Preheat oven to 425°F In a large bowl, mix ricotta, cottage, and mozzerella cheeses, parsley, salt, pepper, and eggs thoroughly.
Pour 2 cups of the sauce in a 9x13x2" pan. Fill shells with cheese mixture generously, and place into the pan with the sauce.
Drizzle remaining sauce lightly over the top of the shells. Sprinkle with parmesan cheese. Bake 30-40 minutes until bubbly. Let stand 15 minutes before serving.