" Ant" Kelly's London Broil Marinade
*Parsley*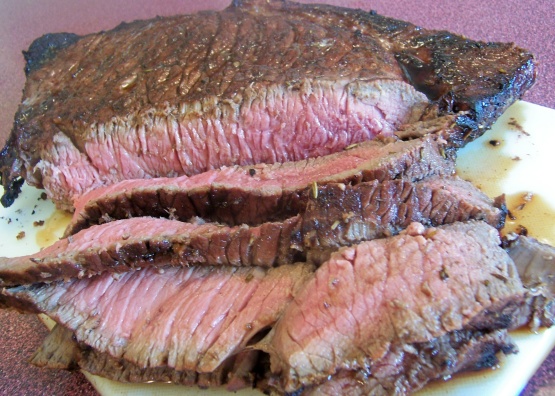 My niece Shwana loves this! She always writes my name "Ant" Kelly when we play Rummy or Scrabble - started when she was little and stuck. I always make this when we go tubing in Wisconsin. Prep time includes time to marinate.
This marinade makes the most delicious tasting meat my hubby or I have ever had. Far better than any we've had at any restaurant and so easy to make! We like our meat cooked med-rare and it was so juicy and bursting with flavor! I took the little bit of left over meat, sliced it up, heated it in the microwave for about 35 seconds and added it to a romaine salad with tomatoes, cucumber a little mont. jack cheese and balsamic vinaigrette. It was still just as delicious. Thanks so much for the great recipe. I have been serching frantically for this recipe today because I couldn't find my print out. Everyone viewing this recipe, make sure you save this to your cookbook! *UPDATE* I made this again with a 4.5 lb piece of London Broil 3 weeks ago when my hubby had a "guy night" at our home. He told me yesterday they are still talking about it, saying it was the most tender and flavorful meat they've ever had (I marinated it for 3 days in a 13x9 dish, flipping every 12 hours spooning the marinade into the scores on top each time). They were asking when they can come over for it again. Served with garlic parmesean mashed potatoes and grilled corn on the cob. Perfect "Man Meal". Thanks again.
Mix all marinade ingredients together.
Lightly score meat in a diamond pattern on each side.
Place meat in a resealable bag. Pour in marinade. Squish meat and marinade around to get all the nooks and crannies.
Marinate in refrigerator 2-3 hours or up to 24 hours, rotating occasionally.
20-30 minutes before cooking take meat out of the refrigerator to come up in temperature.
Cook in the broiler or on the grill 5-7 minutes per side depending on thickness and desired doneness.
**For camping - Place the fresh London broil and marinade in a zipperbag, squeeze out as much air as possible, seal, place inside a vacuum pack bag. Vacuum pack and freeze (I like to vacuum pack the zipper back to guard against leaks in the cooler). Put frozen in the camping cooler, after a day or two it is defrosted and can be cooked on the grill with minimal preparation and mess.**.