Anson County Chicken Stew (Crock Pot)
Fauve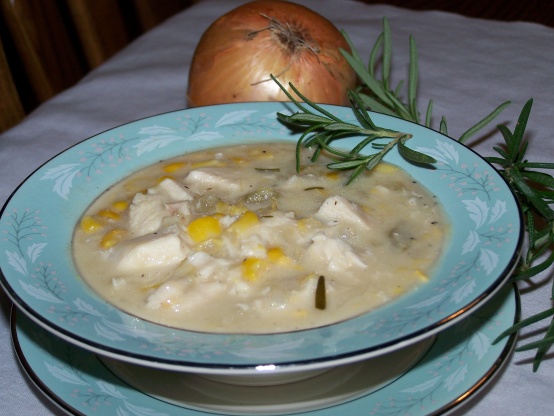 I have just divulged my own county's, my grandmother's, and my mother's most coveted soup recipe. (Lord, help me!) My most wonderful food memories stem from this soup. When I was a little girl, family and friends would gather at my parents house, bringing proportionately larger amounts of the listed ingredients (alas, usually fresh ingredients). Everyone would gather outside around the old iron washpot over a wood fire and prepare this stew with the ingredients they had brought. My mom and dad cooked the stew for hours as everyone visited. The results? Simply perfection. Nothing has ever tasted better to me on a cold Winter day.

This is a great cold weather recipe. My friend and roomate loved it. It was easy to prepare. I didn't have the "herbed" cream soup so I used plain cream soup and added a few spices of my own to make up for the flavor and it was still great. I served with saltines and a green salad. I can't wait to try again with the proper herbed soup and see how close I came the first time with my own spices. I might also try sometime with ground beef and serve with cornbread. Shucks.....wish I had some left for lunch today! Thanks for posting.
2

cups diced cooked chicken (boiled)

1

(16 ounce) can whole kernel corn

1

(16 ounce) can creamed corn

1

small onion, finely diced

1

(14 1/2 ounce) can chicken broth (not the condensed kind)

1

(10 3/4 ounce) can cream of chicken soup, so or 1 (10 3/4 ounce) can cream of celery soup
salt and pepper, as needed

2 -3

bay leaves

1

pinch basil
1⁄2 teaspoon fresh rosemary, snipped (optional)

3

tablespoons butter
Place all ingredients into crock pot.
Cook on "low" setting for approximately 6 hours.
Serve with saltine crackers and a green salad.