Prep 10 mins
Cook 20 mins
Here's a recipe that is sweet, hot, and salty! Serve on a bed of rice with some Louisana hot sauce on the side!
Directions
Heat olive oil in a large fry pan.
Add vegetables/ garlic and fry until tender.
Add molasses, Worcestershire sauce, salt, basil, chilies and chili powder.
Add tomatoes and simmer until heated through.
Add shrimp and simmer 10 more minutes.
Taste and make adjustments to your own taste.
Serve on a bed of rice w/ Louisiana hot sauce on the side.
Most Helpful
This recipe was delicious. What a great flavor the molasses adds to the sauce. You can also adjust the amount of "heat" really easily depending on what kind of chilis you add. The crowd I made this for are not big fans of spicy food, so I used a milder green chili, and they thought the dish had the perfect mix of a "little spice" and well as sweet. If I made it for me personally, I'd go with a little hotter chili, so that was great. I did only used about half the amount of tomatoes called for. I only had (4) 14 ½ oz cans of diced tomatoes, and by the time I added two of them with juice, it looked just right. Thanks, Barbara for the great recipe. It got thumbs up from the whole family.

My husband and I thoroughly enjoyed this dish. We like things on the milder side so I used the diced tomatoes with the chilis already in them. Our 14 year old son and his friend wouldn't give it a chance because of the vegies and the seafood- they only put the broth over their rice. Their loss. Hubby and I will get another meal of it:)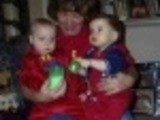 This was a really good recipe. It was just a little sweeter than I would normanly like, but not bad at all. I will definately make this recipe again. It was so quick and easy. Just the right dish for those nights that you just don't want to slave over a hot stove for a long time.