Annacia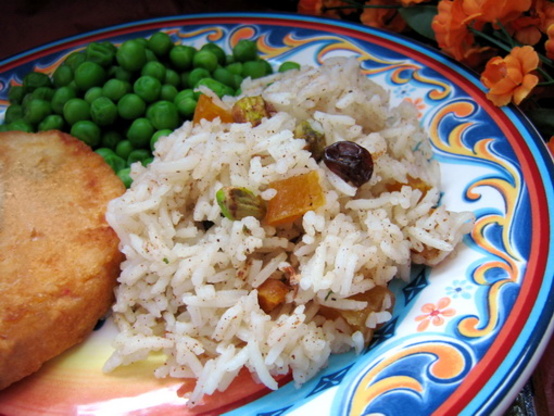 We love rice...this is one of my favorites, its great with fresh fruit and crusty bread. It has lots of great flavor and texture.

Another Pilaf is another winner. I used apricots in place of cranberries ( because I like them more) and skipped the parsley. The pistachios in this are an inspiration, they are perfect. I just had simple bakes salmon and peas with this tonight but I can't wait to try a luscious Moroccan chicken with this. Yummm and a half. Made for Photo Tag.
3

cups rice, long grain
1⁄4 cup parsley, chopped
1⁄3 cup butter, cut up

1

teaspoon salt
1⁄4 teaspoon pepper, black, fresh ground

6

cups chicken consomme

1

teaspoon allspice, freshly ground

1

teaspoon cinnamon, freshly ground

8

tablespoons pistachios, chopped

1

teaspoon ginger, candied, finely minced
1⁄4 cup golden raisin, coarsely chopped
1⁄4 cup cranberries, dried, coarsely chopped
Place the rice, parsley, butter, salt, pepper, consomme, allspice and cinnamon into a shallow dish.
Mix well, cover and bake in a 350 degree oven for 50 - 60 minutes.
Once the rice is cooked, fluff with a fork and add the pistachios, ginger, raisins and cranberries. Mix and serve.
This dish is wonderful served with pork or chicken.