Another Broccoli Casserole
Parsley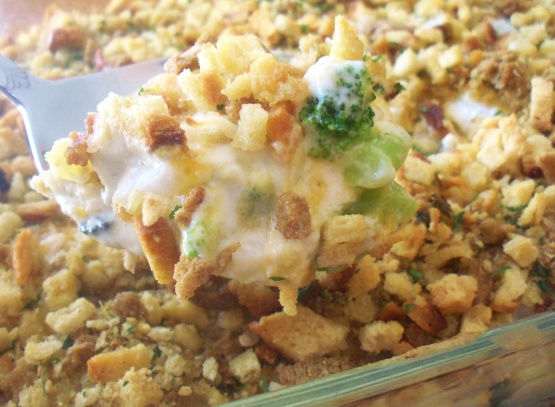 This recipe came from a friend. It is quick, simple and a perfect dish on those days that you just don't want to be in the kitchen cooking complicated dishes.

Nope...this is not just another broccoli caserole-it is another delicious broccoli casserole. I used fresh broccoli and cooked util crisp tender. Then I followed the recipce as directed, halving the portions. I served this to guests who all commented on the excellent taste. Not a speck was left in this dish. I made this up ahead and cooked just before we ate. It held well so it rates as a do ahead dish. Also, I used the cornbread type Stove Top in a canister. Wonderful, wonderful, wonderful!
In a 13x9 inch casserole dish, layer broccoli, then cheese.
Mix remaining ingredients together and spoon mixture over the top of the cheese.
Top with stove top stuffing mix.
Drizzle with melted margarine.
Bake@ 350 F for 30 minutes.