Suzie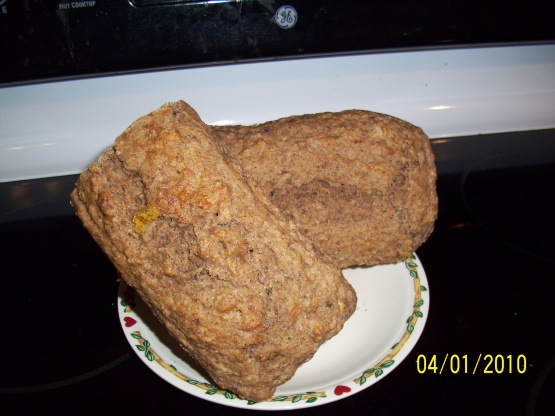 This is a lower fat, healthier version that I threw together this morning. Came out YUMMY! Try it spread with fat-free cream cheese while it's still warm, it's awesome.

Top Review by Suzie
This is definitely a keeper. I used homemade applesauce (Rachel Savage recipe #70097). I made the applesauce sugar free just for this recipe. The texture of this bread was phenomenal--earthy yet light and moist! DH actually liked it, and if HE likes something made a little different (whole wheat flour and applesauce) then it's GOT to be good. So, we both give Tanner's Mom 5 stars for this treasure. Thanks for sharing!
Preheat oven to 350°F.
Spray 2 loaf pans with cooking spray.
In medium bowl, combine flour, baking powder, cinnamon and cloves. Set aside.
In another bowl, cream together butter and Splenda.
Blend in mashed bananas.
Add flour mixture to wet mixture, stir together just until combined.
Spread in pans and level off with knife or spatula.
Bake for approximately 1 hour or till toothpick inserted in center comes out clean.