Ann's Crunchy Peanut Brittle
PaulaG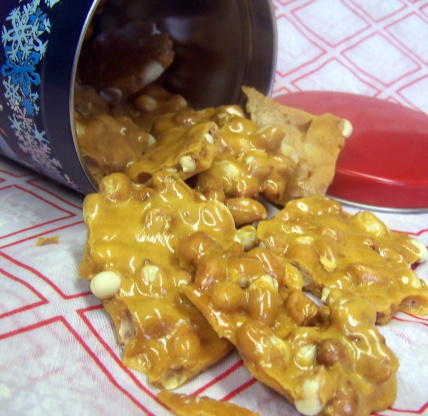 This is a must at Christmas. I like it because it is crunchy and not sticky.

I mostly made this for my sister who really loves peanut brittle. It was a major hit! Nice and light, very crunchy! A simple recipe that has a great ending!! Oh, I kept some for me too!! Thanks Miss Annie..another winner!!
Mix and set aside the butter and soda.
In a large pan, mix and boil the sugar, water,and syrup to hardball stage (254 degrees F).
Add peanuts and stir constantly until mixture turns yellow (NOT AMBER) about 5 minutes.
Remove from heat and add butter mixture and vanilla.
Pour onto greased cookie sheet.
Pat into a thickness you like with the back of a spoon.
Cool and break into pieces.
Store in airtight container.