Anne's Colourful Pasta Salad
loof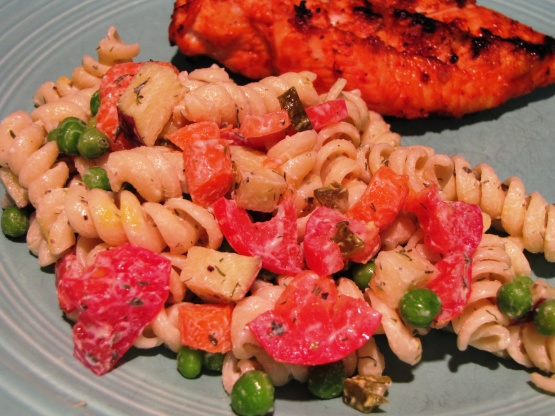 As the title indicates, I got this recipe from a good friend of mine, Anne. It is very quick and easy to make and really tasty, too. It's great for potlucks or brunch buffets (the recipe can be multiplied easily). I know there are many pasta salads on zaar already, but I think this one is just a little different. I hope you enjoy! Note: 250 g = 9oz; 200 g = 7oz

I chose this recipe for the dressing because I'm always looking for alternatives to mayo for pasta salad. I made it with tricolored rotini, peas and tomatoes, plus diced red onion and green pepper--no apples, carrots or gherkins. The dressing is stupendous. I love the combination of herbs and the lemon juice plus mustard lend it a nice bite. Will definitely make again.
Prepare pasta according to package directions. Make sure to splash it with cold water after draining it, so that the cooking process stops and your pasta wont get soggy.
To make the salad:.
Combine all the veggies and mix with the pasta in a big serving bowl.
For the dressing:.
Mix all ingredients and stir until well blended. Season to taste.
Pour over pasta and veggies and toss to coat.
Allow flavours to blend some hours prior to serving (you dont have to do this, but it intenisfies the flavours).
Serve sprinkeld with some fresh herbs and some nice crusty bread.