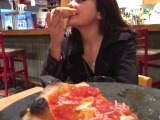 My friend, Annemarie, the chef/caterer/flower doctor... lives part time in Roatan and part time New York City. She drinks these delicious concoctions in the islands. Makes you sing like a monkey? Or is it "off-key"?
Directions
Mix all in the blender.
Serve in a cold glass!
Reviews
Most Helpful
I absolutely LOVE this drink!! My husband and I had them in Roatan on our honeymoon and were crashed by 2 PM and didn't wake up the rest of the night. They are so amazingly good!
Wonderful desert drink! Rich with all the fun flavors! Thanks, Trinkets! Made for Vegetarian Recipe Swap.

YUM!! -but honestly ANYTHING is good with a little kahlua.