Anne Marie's Pasta With Beans
flower7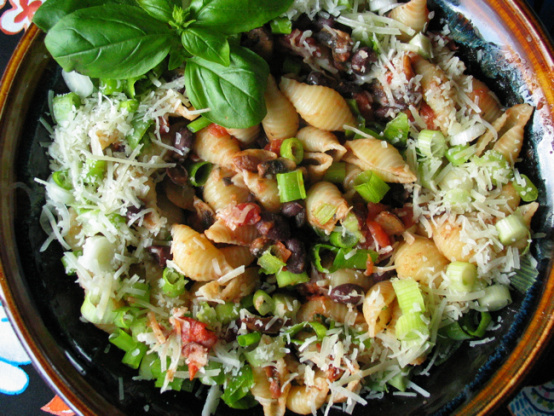 This is an old family recipe. I have no idea who Anne Marie is but her name adds a nice touch doesn't it?

This is a great easy quick pantry sauce. I used med. shell pasta because I thought it might hold the sauce better than ziti (plus I didn't have any ziti on hand). I added a little fresh basil and some of the pasta water to the sauce to thin slightly and used more than just the white part of the onions. Thanks for sharing! ~October 21, 2013. Update: The leftovers were a little dry but I may have cooked the tomato mixture a little too long when I initially made this.
Cook pasta according to package directions. Drain and set aside in large serving bowl.
While pasta water is heating and pasta is cooking, heat oil over medium-high heat in large non-stick skillet.
Add mushrooms and saute til lightly browned.
Add undrained tomatoes, beans, basil, salt and pepper.
Mix gently.
Cover and simmer until pasta is done cooking.
Pour tomato and bean mixture over pasta in serving dish.
Top with scallions, lemon juice and parmesan cheese.