Pamela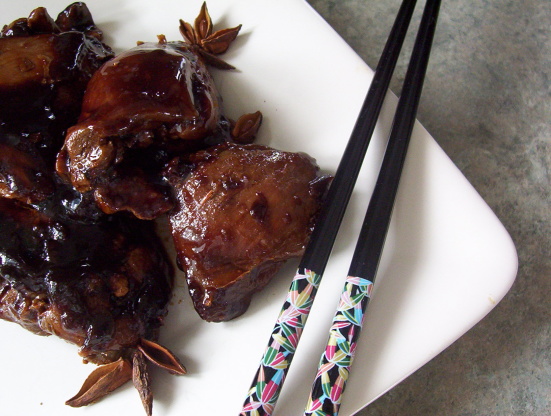 Dinner on the table in less than 30 minutes!

My husband is making this again as I review this recipe. I think we've made it nearly a dozen times. Thank you for sharing this recipe. This really hits the spot when we crave Asian restaurant fare. My toddler daughter loves it and we've served it to delighted guests. It goes to gether quickly and we consisently get delicious results. I hope those who happen upon it will give it a try.
Heat cooking oil in wok or large frying pan on medium-high. Cook chicken, in 2 batches, for about 3 minutes per side until lightly browned. Remove from wok.
Add garlic and ginger to same wok. Heat and stir for about 1 minute.
Add next 6 ingredients. Bring to a boil on high. Reduce heat and then add chicken. Cover and Cook for 10 to 15 minutes until chicken is no longer pink inside. Remove and discard star anise.
Stir water into cornstarch in small bowl until smooth. Stir into chicken mixture. Heat and stir for 1 to 2 minutes until sauce is boiling and thickened.
Serve over your favourite rice.
This recipe also freezes very well. Freeze it with your favourite fried rice for an asian microwave tv dinner, or use leftovers in your favourite egg roll recipe!