ImPat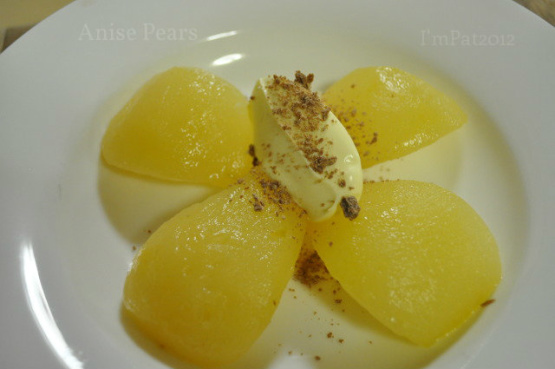 Aniseed is used widely in Chinese cooking, both entrees and in desserts, adding a sweet, licorice-like flavor to foods. Any variety of firm, ripe pears can be used in this refreshing dish, but you may have to adjust the cooking time according to the texture and ripeness of the pears.

Top Review by ImPat
What a great and easy dessert to make. I used 3 Packham pears (though left all the other ingredients as per a four recipe) and they were a little firm so took 30 minutes to cook to tender stage and also gave them a stir every now and then to bring the pieces in the bottom of the pan up to the top so there was an even cooking of the pears. Thank you morgainegeiser, made for Aussie/Kiwi Recipe Swap #68 September 2012.
In a saucepan, combine water, sugar, lemon juice, and aniseed. Bring to a boil over medium heat, stirring occasionally. Add pears.
When water returns to a boil, reduce heat slightly, cover saucepan, and simmer until pears are just tender, about 6 to 10 minutes.
Cool slightly, then place in a shallow bowl and chill.