Animal-Free Raspberry Vodka Gelatin Jigglers
Thuha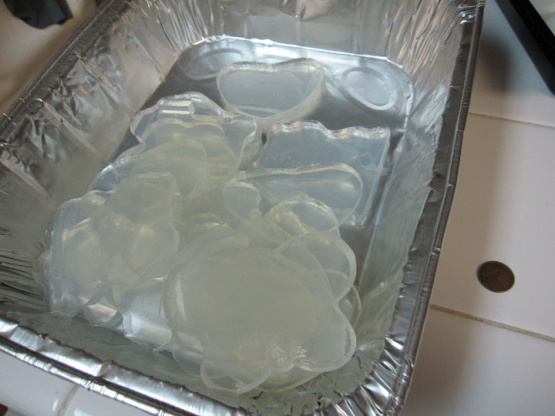 This recipe for vegetarian-friendly, alcoholic gelatin jigglers (think Jello Jigglers meets Jello shots) combines fruit flavored vodka, uses seaweed-derived gelatin called agar-agar (as opposed to nondescript gelatin, which is likely to be animal-derived), and reduces paper/plastic waste (no cups). The ratio of water to alcohol is 1:1, so these jigglers are quite alcoholic! For better taste/less alcohol, you might consider reducing the amount of alcohol to 1 1/2 cups and increasing the amount of boiling water to 2 1/2 cups. Of course, it's all a matter of personal taste and preference. The agar-agar powder can be found at your local South East Asian market.
Prepare gelatin molds: use shallow pans or containers (non-stick metal, glass, aluminum, or plastic) or ready-made gelatin molds, applying it with non-stick cooking spray (recommended) or covering it with saran wrap (one whole piece covering bottom and edges of pan) for easy removal.
Boil water in saucepan.
Add packet agar-agar powder. Dissolve completely. Reduce heat. Let mixture simmer for 1 minute, stirring.
Remove from heat, then combine raspberry vodka.
Immediately pour mixture into container(s). Refrigerate until set (about 2 hours).
Finally, remove firm gelatin from refrigerator and container(s) and place onto clean, flat surface. Use cookie cutters to make jigglers or use knife to simply cut into cubes.