Anginares Me Araka (Artichoke and Pea Stew)
awalde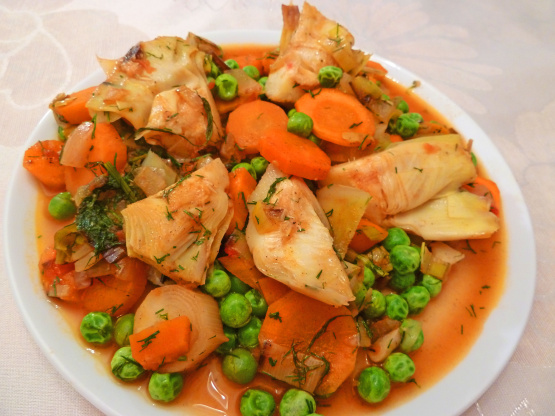 We serve this as a main dish - Greek meals are often meatless.

Top Review by awalde
This is a delicious and tasty mixed vegetables plate. I belive a lot of children would convert to vegetables fan with it! I added one leek because I had one that had to be used.
We liked a lot the taste and I wouldn't renounce to the dill. This make the dish really "Greek"!
Thanks a lot for this dish, I hope more people will try these vegetables in this way.
Easy and yummy!
Place the oil, onions and carrots in a large saucepan and cook until the onion is translucent.
Add 1 1/2 cups of water and bring to the boil.
Cook for 10 minutes.
Add the artichokes, tomato paste, lemon juice and salt and pepper to taste.
Cover and cook for 10 minutes more.
Add the peas and dill, check seasoning.
Cover and cook a further 10 minutes. The stew should have quite a bit of sauce, but not be swimming in it. If there's too much liquid, uncover pan, turn up heat slightly and boil to evaporate liquid, about 5 minutes.
This is best served warm, nearly room-temperature.
Serve with feta and crusty bread to mop up the juices.