Angies Pumpkin Vichyssoise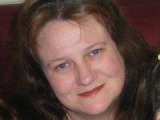 I got this recipe from my friend Angie. My oldest son and husband hate any form of pumpkin, but will eat this soup by the gallon.
Directions
Cut pumpkin into small pieces and roast till both sides are golden.
Peel potatoes, cut into cubes then place into water with chicken stock and onions.
Once potatoes are cooked drain liquid stock into a bowl and keep set to the side.
Once pumpkin is taken out of the oven, peel the skin off then mash it together with the potatoes and onion.
Gradually add the chick stock liquid back into the mashed mixture then stir until desired consistency.
Add cream to taste then serve.