Angie's Hash Brown Casserole
diner524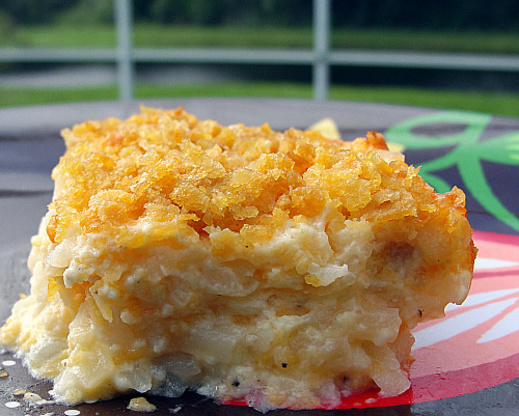 This is a dish my dad's wife makes...

I am famous for this casserole and it is DEMANDED of me at gatherings. Following it to the letter (I use Kellogg's crumbs instead of mashing up the cornflakes myself) will produce mouth watering results. Also, another fun thing is that you can change around which soup that you put in it to alter the flavor. I like it with cream of broccoli, a mix of cream of chicken and cream of mushroom, I've mixed cheese soup and cream of potato, I've tried cream of onion....you can really play around with it. I like using two cans sometimes as well. It's truly my favorite dish in the world to eat!
Preheat oven to 350 degrees.
Mix all ingredients (except toppings) together in large bowl.
Pour into buttered 9x13 pan.
Cover top of potatoes with the crushed cornflakes.
Drizzle melted butter over cornflakes.
Bake uncovered 45 minutes.