Angie's Dad's Best Cabbage Coleslaw
Marlitt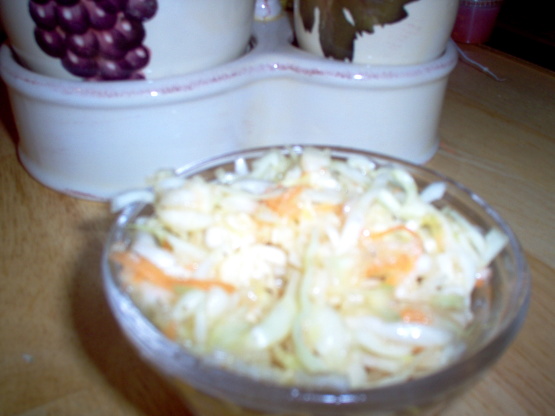 Found this recipe on another site, my compliments to Dot. This is a fabulous recipe. Quick and easy. Its good the same day but, make a least a day ahead, up two weeks ahead it's flavor only gets better.It does stays crunchy. People that don't eat coleslaw like this one. Prep time does not include time to marinade. If you use the packaged shredded cabbage it only takes 5 minutes.

Yummy! I really liked the addition of the celery. For health sake I just used about two teaspoons of sugar and it tasted great. I also cut back on the oil to about 1/2 cup and used about a tablespoon of sesame oil in addition. Instead of white vinegar, I used Bragg's Apple cider vinegar. It was very tasty. I liked the addition of the dry mustard. Thanks for sharing.
In a large bowl, add cabbage, carrots, celery and onion.
Sprinkle with 1 cup sugar or splenda, and toss so that it is well mixed in.
In a saucepan, combine vinegar, oil, salt, dry mustard, and pepper.
Bring to a boil.
Pour the hot dressing over the cabbage mixture, and mix well.
Can be served once chilled but best put into a large covered container, and refridgerate for at least 24 hrs.
If you let sit longer (flavor increases) it is best to pour off some of the juice before serving.