Peter J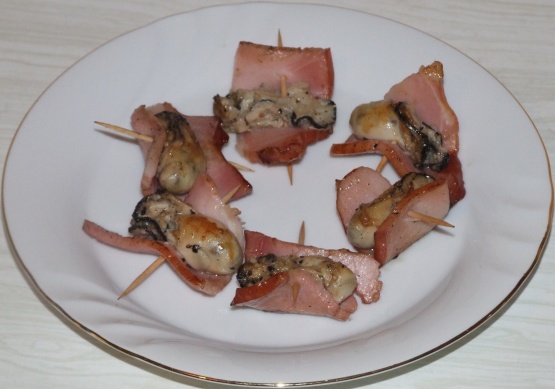 Delicious appetizer for your next party. These little angels can be broiled in your oven indoors or on a grill outdoors. From Global Gourmet.

These were really special Stella! I'd never thought about marinating oysters in wine before but it worked really well and gave them a distinctive but subtle taste. The only change I made was using around double the amount of garlic. By half-wrapping the oysters in bacon and leaving bacon-side down most of the time it also protected them from some of the direct heat so they weren't over-cooked.
Mix the white wine, garlic, salt and pepper together.
Add the oysters and marinate 10 to 20 minutes.
Preheat the broiler.
Cut each bacon slice in half, and wrap each oyster with a piece of bacon and secure with a toothpick.
Broil on both sides until the bacon is crisp.
Keep warm on a heating tray.