Angelina's Restaurant Crab Cakes - Maryland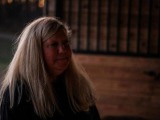 This is the original as it appeared in the "Baltimore Sun" as a recipe request, recently. This was also printed many years ago, but has made a new a recent appearance again paralleling the closure of "Angelina' and subsequent auction of the restaurant. With the sale of the restaurant this crab cake recipe goes along with it. History as follows from Angelina's website. "In 1952, Angelina Tadduni and her family began a neighborhood Italian restaurant in a row home in northeast Baltimore. Building upon its local popularity, Bob and Carole Reilly purchased the restaurant in 1968 and added several essential features to the Angelina's legacy. Among these were a renowned Irish pub (the first to serve draught Guinness in Baltimore) and the finishing touches on the celebrated crab cake recipe. The success of this signature dish made Angelina's name famous far beyond the old neighborhood, and the crab cakes began accumulating a list of awards too lengthy to include here. Visitors from across the country came to Angelina's seeking the best known crab cakes in a city best known for crab cakes." "This recipe is straightforward and unadulterated and what you will get are authentic Maryland-style crab cakes. The real key to making good crab cakes is the use of top quality crab meat, and very little filler as possible. It's equally as important to be very careful with the fragile lumps, as you don't want to break up the lumps that provide the best formed crab cakes you will ever see, and without over-mixing. Enjoy this recipe as this is a Baltimore staple, and what a tradition it is.
Directions
Put crab meat in a large bowl and cover with bread crumbs and moisten with milk.
Combine beaten egg with the mayonnaise in a separate bowl. Add baking powder, parsley, onion, salt, and pepper.
Pour this mixture over crab/crumb/milk mixture. Refrigerate for at least 1 hour. Dust cakes lightly with flour.
After one hour, form crab into cakes, not over mixing or over forming. Put each crab cake on wax-paper - (putting wax paper on top too) and let sit until ready to fry up. Let sit again, at least one hour, this makes the cake easier to hold together during the cooking process.
Spray cooking spray on bottom of pan, (either stainless steel, or non-stick),.
Heat butter or oil until hot. (Shimmering) Fry crab cakes approximately 4 minutes per side, carefully, flipping over and frying for another 4-5 minutes until browned.
Drain on paper towel and serve.