The Angelina Cafe in Paris, open since 1903, serves a thick hot chocolate in demitasse cups with a tiny dollop of mascarpone and whipped cream. They are famous for making hot chocolate from melted chocolate bars. It is incredibly easy to prepare by mixing chocolate shavings with hot water. You can serve it in small cups or in 17th-century style chocolate pots and demitasse cups such as those sold in gourmet shops.
6 ounces chocolate, chopped (fine-quality semisweet or bittersweet)
1⁄4 cup water, room temperature
3 tablespoons hot water
3 cups hot milk, divided
whipped cream, if desired (optional)
Directions
In a double boiler over low heat, combine chocolate and 1/4 cup water until melted, stir until smooth.
Remove top of double boiler pan from.
Whisk in 3 tablespoons hot water.
Pour into pitcher or divide among individual 4 mugs.
Either stir 3/4 cup hot milk into each mug or serve milk in a separate pitcher.
Pass sugar and whipped cream in separate bowls; add to taste.
Most Helpful
Nice cup of hot chocolate, the way a cup of hot chocolate is suppose to taste. Much, much better than the powder varieties. So easy to make too. I melted the chips in the microwave and also heated up the milk in there too. Made for 1 2 3 Hits tag game.

Mmmmm. Nice thick hot cocoa. This is really easier to make than one might think, and so much better than instant. I can't wait for the snow to fall to make lots! Thanks Annacia, for a great hot chocolate recipe. :)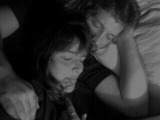 Drinking a cup of Angelina's Hot Chocolate is an encompassing experience that is truly cathartic. It seriously compels you to sit down and relax while you enjoy its rich flavor and creamy texture. I LOVED, LOVED this hot chocolate! Made for My-3-Chefs.