Angelic Strawberry Frozen Yogurt
Derf2440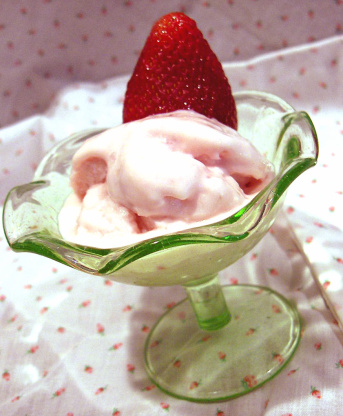 This is a great way to have strawberries and great for those hot summer days!I got this from GH&G website.This needs to be frozen for 2 to 4 hours.

Easy and excellent! I think any berry would be wonderful with this recipe. Even my dad gave it a thumbs up, he said it tasted like homemade ice cream from when he was little (1940's) it's the tang from the yogurt that makes it different. I did do one thing different. I don't use lots of packaged items so I used 1/2 cup of whipping cream and 1/2 a cup of whole milk in place of the 1 cup of milk and left out the topping mix. Still wonderful. Thanks.
Put strawberries and sugar in the freezer bag.
Zip the bag closed, pressing out excess air.
Mash strawberries and sugar together in the bag.
Add whipped topping mix and milk, zip the bag, then squeeze the mix.
Add yogurt to the mixture in the bag, seal it, then squeeze the mixture until well blended.
Place in the freezer to harden (about two to four hours).
After two hours, remove bag from freezer.
Squeeze mixture to make texture creamier.
Eat at soft-serve consistency or return to freezer.
Makes one quart.
To prepare fresh fruit for recipe mixtures or toppings, put fruit in freezer bag, remove excess air and zip closed.
Mash, squeeze or knead to soften fruit.
To crumble cookies or candy for recipe mixtures or toppings, put in freezer bag, remove excess air and zip closed.
Use a rolling pin to crush cookies or candy.
To support the freezer bag upright while adding ingredients, turn the zipper back to form a"cuff.
"Stand bag in a small bowl.