Angelic Shrimp and Lobster
Catnip46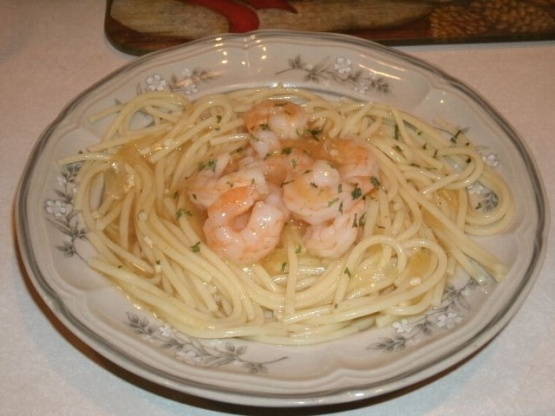 Really good with a glass of nice light white wine!

Wonderful dish. I only used 1/4 cup of white wine and a dash of ground red pepper instead of red pepper flakes. I did not add the cream. It had a nice light flavor with just a hint of a sting to it, delicious. I used imitation crab as lobster is very expensive where I am but I bet it would have been even better with real lobster. I also thickened it with cornstarch. A keeper for sure but next time I think I'll just use shrimp.
In a large saute pan over medium heat, melt butter and saute garlic and shallots for 2 minutes.
Add wine, chicken broth, black pepper, and red pepper flakes and bring to a boil over medium-high heat until the liquid starts to reduce.
Add shrimp and cook about 5 minutes until opaque.
Add lobster just to heat through.
Reduce heat to simmer, add cream and turn off heat after 1-2 minutes.
Meanwhile, cook pasta according to package directions.
Drain.
Remove seafood from sauce and set aside.
Toss pasta with sauce.
Place seafood on top of pasta, sprinkle with parsley and serve.