Bayhill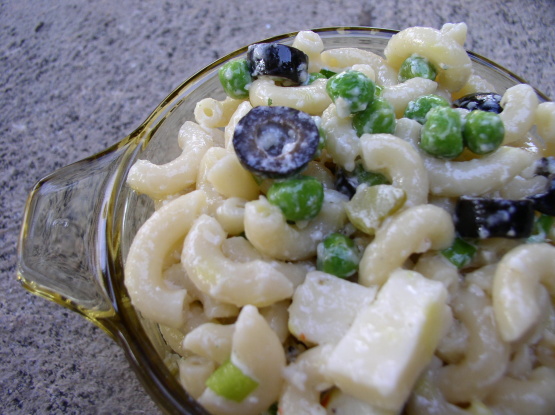 This is my friend's own recipe--yum!
This was good pasta salad. It went together very quickly and easily, with ingredients that I always have on hand. My family usually prefers a sweeter salad, using sweet pickles instead of dill, but this was a nice change of pace. We really liked the addition of Jack cheese instead of the usual cheddar. Thank you for sharing!!
In a small bowl whisk together the mayo and dressing mix until very well blended. I.
n a large bowl gently mix the other ingredients, then add the dressing, tossing together until well coated.
Refrigerate until chilled through.
*Tip: There should be about the same amount of cheese, pickles, green onions, olives and peas. I mix these with the pasta to see if it *looks* right before adding the sauce.