Angel Pasta with Lobster Sauce
mikey ev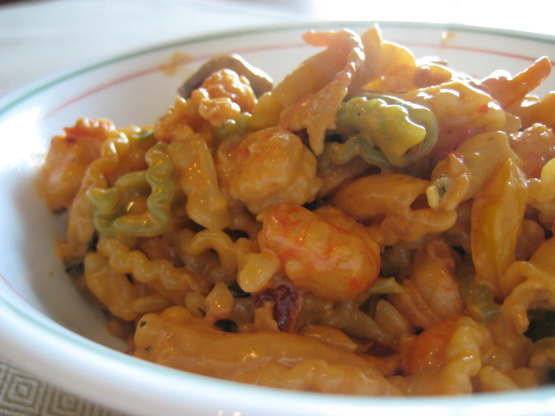 This is said to be very similar to the Olive Garden's Lobster Spaghetti. In any case, it sounds amazing.

Delicious! We made this tonight with hopes that it would be similar to a dish at a yummy Italian restaurant in DC -- Vapiano. The dish is called Granchi de Fiume and uses crawfish, carrots, and tomatoes. So we just added these extra veggies and switched out the lobster for cooked crawfish tails. Also, we only had 1 cup cream but it was perfect -- let the pasta finish cooking in the sauce for 5 minutes. This also let the sauce thicken a bit. I actually think more cream would have made the sauce too thin. Amazing recipe to work off of. Thanks for posting!!
Cook the pasta according to directions on the package, then set aside and keep warm.
Place the lobster tails in boiling water and simmer for 12-15 minutes.
Drain and remove the meat from the shells.
Cut the meat into bite-sized pieces and set aside.
Cook the mushrooms, onions, red and green pepper and sun-dried tomatoes in the butter and oil in a large frying pan over medium heat.
Stir constantly until tender.
Add lobster and bacon; stir well.
Add pasta, whipping cream, basil, lemon juice, and pepper.
Continue stirring until all ingredients are heated through.
Serve over fresh spinach leaves, if desired, and garnish with lemon slices.