Angel Hair Pasta With Prosciutto and Wild Mushrooms
IngridH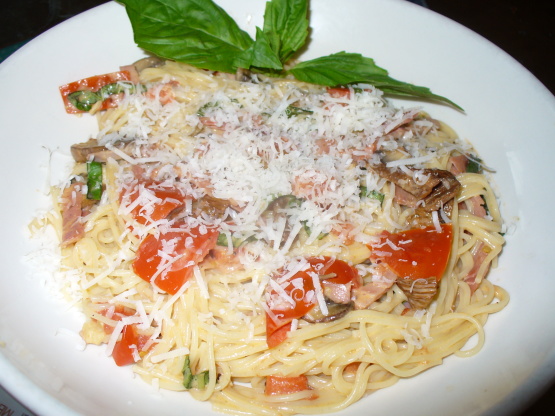 Easy and elegant, a perfect romantic dinner for mushroom lovers! The wild mushrooms can be anything you like. The recipe recommends morels, chanterelles, shitake, oyster mushrooms, or a combination of them. We have only tried this with shitake so far with excellent results.
My 11 yr. old MN boy said to back off on the red pepper flakes. I already reduced it to 1/4 tsp. Still he said 5 stars. We used ham instead of prosciutto since that's what I had. Had to use dried basil (1tsp). Will make it again.
Rinse the mushrooms and pat dry. Cut off and reserve stems. Cut the mushroom caps into thin strips. You should have about 4 cups of mushrooms.
Cut the tomatoes into 1/2 inch cubes.
Cut the prosciutto into very thin strips.
Heat oil in skillet and add mushrooms, rosemary, pepper, and crushed red pepper and salt (optional). Cook, stirring for about 3 minutes, then add the garlic and prosciutto for another 1-2 minutes.
Meanwhile, cook pasta in boiling water to desired doneness. Reserve 1/2 cup of the cooking liquid, drain pasta, and return to pot.
Add tomatoes to the mushroom mixture and stir. Add cream and bring to a boil.
Add the pasta, reserved pasta liquid, butter, 1/4 cup of the Parmesan, and basil. Toss to blend.
Serve with remaining Parmesan cheese.