3 Reviews
This was a good, quick dinner. I'll keep it on hand! Thanks!

Debs, Thanks so much for posting this wonderful recipe. It's such a great combination of flavors, and very easy and simple to prepare. I used Fat Free Half and Half instead of cream and honestly cannot tell it's not heavy cream. I bought it by accident for another dish and now cook with it all the time. I also doubled the garlic. Next time I think I'll add white wine and cook that down before adding the cream, maybe sone roasted red bell peppers, shrimp...Wow, the possibilities are endless. I love recipes like this! ***This was saved in my Top 2008 Recipes Cookbook.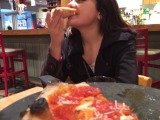 Sounds great! I've made alfredo from a similar recipe but the asparagus makes it something special. Thank you.
Angel Hair Pasta With Creamy Asparagus