Angel Hair Pasta With Creamy Asparagus
Prep 10 mins
Cook 15 mins

This is extremely decadent and not at all for the diet conscious..but sooo good.
Directions
Boil asparagus in water for 5 mins, then drain and cool down quickly with cold water.Cut asparagus into 1 inch pieces,set aside.
In a small skillet melt the butter over med heat and add the onions, garlic and pepper flakes, saute for 5 mins until soft.
Add the cream, parmesan cheese and lemon juice and simmer for 5 mins until sauce thickens slightly. Add the asparagus and black pepper to the sauce. keep warm.
Cook the pasta until al dente, drain and serve imediately with the asparagus sauce on top.
Serve with extra parmesan and red pepper flakes.
Most Helpful
This was a good, quick dinner. I'll keep it on hand! Thanks!

Debs, Thanks so much for posting this wonderful recipe. It's such a great combination of flavors, and very easy and simple to prepare. I used Fat Free Half and Half instead of cream and honestly cannot tell it's not heavy cream. I bought it by accident for another dish and now cook with it all the time. I also doubled the garlic. Next time I think I'll add white wine and cook that down before adding the cream, maybe sone roasted red bell peppers, shrimp...Wow, the possibilities are endless. I love recipes like this! ***This was saved in my Top 2008 Recipes Cookbook.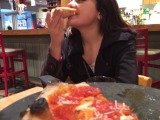 Sounds great! I've made alfredo from a similar recipe but the asparagus makes it something special. Thank you.