Angel Hair Pasta With Basil & Tomatoes
Boomette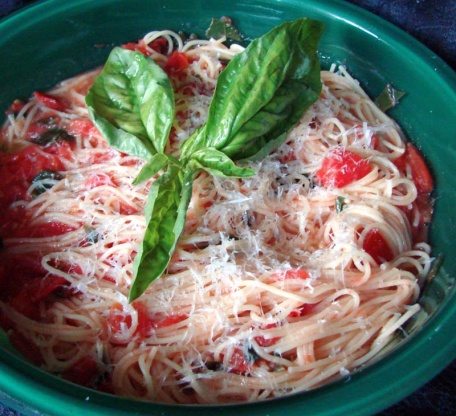 Fresh basil and garlic bring out the Italian flavors in this simple quick-cooking dish. This makes 3 1-cup servings. Recipe is from Land O Lakes. Your favorite pasta can be substituted for the angel hair.
This was almost tasteless. If I made it again I would use chopped Italian stewed tomatoes to add some zing.
Cook pasta according to package directions.
Drain and keep warm.
Meanwhile, spray 10-inch nonstick skillet with no-stick cooking spray; add garlic.
Cook over medium heat 1 minute.
Add tomatoes and basil.
Continue cooking, stirring occasionally, until heated through (1 to 2 minutes).
Toss together hot pasta, tomato mixture and light butter in large serving bowl. Sprinkle with cheese.