CoffeeB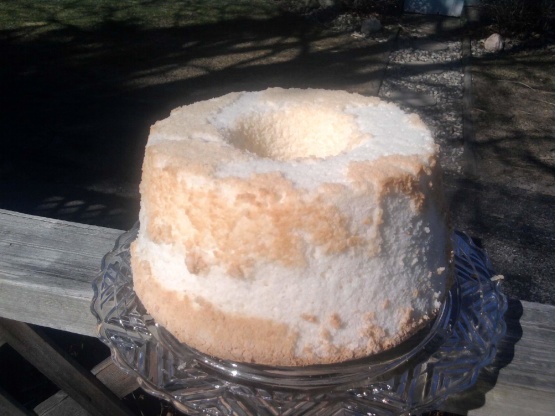 Every year for my birthday, my Gran would ask me "What kind of cake would you like me to bake you?", even though she knew what the answer would be: "ANGEL FOOD CAKE, PLEASE!!!!" You'll never buy angel food cake again, once you use this recipe. Rather than granular sugar for the entire recipe, confectioner's sugar is used. The cornstarch in the powdered sugar stabilizes the whites, making for a much lighter and dreamy angel food cake. Light as a feather, creamy-tasting, and NOT rubbery like store-bought versions, this is my "go-to" cake recipe for ALL special occasions. :)

Fresh strawberries come early in So Cal so I made this cake for my Midwest brother during his recent visit. This cake is amazing! The texture is a bit different from a "regular" angel food cake and that's a good thing. The cake has substance without being the least bit tough or chewy. It's sweet but not overly sweet. "Creamy" is an excellent word to describe it. WONDERFUL with fresh berries but just as good on it's own. My SIL snacked on it like it was a cookie. She even had it for breakfast! This particular cake ended up being extremely well traveled. Sweetie is a truck driver and takes his own food on the road. He took over a third of this cake on his most recent trip. This cake was enjoyed in So Cal, Oregon and Yakama, Washington. It was then consumed in Boise, Idaho and finally Utah. He did a pretty good job of rationing the cake but told me "it's time to come home so you can bake another angel food cake". LOL Thanks Sweedie for an amazing angel good cake. It's wonderful that you preserved your Gran's recipe.
.Heat oven to 375 degrees.
Stir together cake flour and confectioner's sugar; set aside.
In a large mixer bowl, beat egg whites, cream of tartar, and salt until foamy.
Add the granular sugar, 2 tablespoons at a time, beating at high speed until the meringue holds stiff peaks. (This takes up to 10 minutes.).
Gently fold in the extracts by hand.
Sprinkle the flour-confectioner's sugar mixture, 1/4 cup at a time, over the meringue, folding it in gently just until flour-sugar mixture disappears. DO NOT OVER-MIX OR CAKE WILL BECOME TOUGH!
Push batter into ungreased tube pan, turning it several times to fill pan evenly. Gently cut through the batter with a knife to remove air bubbles.
Bake 30-35 minutes or until the top springs back when touched lightly with finger.
Remove from oven and immediately invert the tube over weighted glass bottle; let hang upside down until cake is completely cool (about 2 hours.).
To remove cooled cake from tube pan, loosen first by moving table knife up and down against side of pan. Next, turn the pan over and hit one side; the cake will slip out onto the platter.