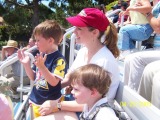 These biscuits are perfect for breakfast. You can smother them in gravy or slather in butter and jam. You can also freeze the uncooked biscuits and bake later.
Directions
Into a large bowl, sift together flour, baking powder, salt, baking powder, baking soda and 2 tablespoons of sugar.
In a small glass bowl add 1 tablespoons sugar, yeast and 1/4 cup of warm water. Make sure water is very warm but not too hot to touch. Allow yeast to bloom for about 5 minutes.
Work shortening into flour mixture until it resembles coarse crumbs. I like to use my hands but you can use a pastry blender or two knives.
Add yeast/water/sugar mixture and 2 cups of buttermilk.
Blend together with a wooden spoon until all wet ingredients are incorporated. The dough will be very sticky.
Place dough onto cutting board dusted with flour and knead lightly about 5 or 6 times by folding dough back onto itself.
Roll out to about 1/2 inch thickness. Using 2 inch round biscuit cutter, cut out biscuits and place on cookie sheet lined with parchment paper.
Brush tops with milk and bake in 425 degree oven for 13-15 minutes.
Reviews
Most Helpful
These biscuits are really good and have a perfect texture.
Perfection!
I made these biscuits and they were the most wonderful biscuits I ever had. The only thing is that it only makes 24 biscuits when I always make 30 Biscuits. I still give this 5 stars.