Andros Island Shrimp Baked in Tomato Sauce W/ Feta
Leslie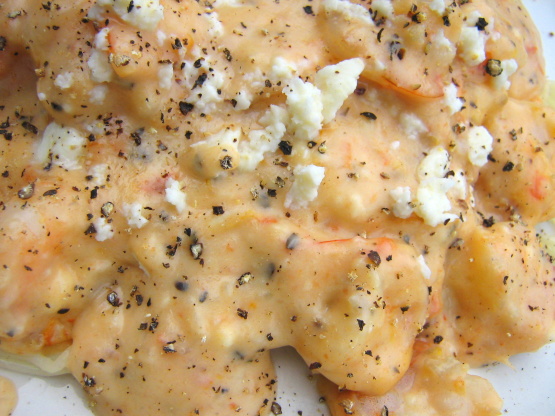 Garides Saganaki is not a traditional Greek recipe. It was probably created in the early 1960s, as tourists began to flood the Greek islands. It is now a popular starter served in upscale seaside taverns all over the country. Each portion usually comes to the table in its own two-handled pan, right out of the oven. This is the version served on the island of Andros. The sauce is scrumptious, so make sure you provide plenty of fresh crusty bread for dipping. You can stir in cream if desired before placing in the oven. Note: If you leave feta cheese uncovered in the refrigerator overnight, it will dry a bit and can then be easily grated. Recipe adapted from The Foods of the Greek Islands by Aglaia Kremezi.

This recipe was absolutely wonderful! I did all of the cooking in the skillet because it is already hot here in Texas, and it was still great. I didn't have cheese dry enough to grate, so I just let the cubes melt in a little longer and it seems to have worked fine. Thank you for the great recipe :)
Preheat the oven to 400 degrees F.
In a large skillet, heat oil and sauté onion over medium heat for 5 minutes.
Add Aleppo or pepper flakes and garlic and sauté for 30 seconds.
Add shrimp and sauté for 2 minutes.
Add tomato and salt (to taste) and cook for 2 minutes, or until sauce begins to thicken.
Transfer to a baking dish or four individual gratin dishes.
Bake for 10 minutes, or until the sauce is bubbly.
Sprinkle with the cheese and bake for 2 to 3 minutes more.
Sprinkle with the parsley and fresh lemon juice and serve.