Andouille New Potato Salad
vrvrvr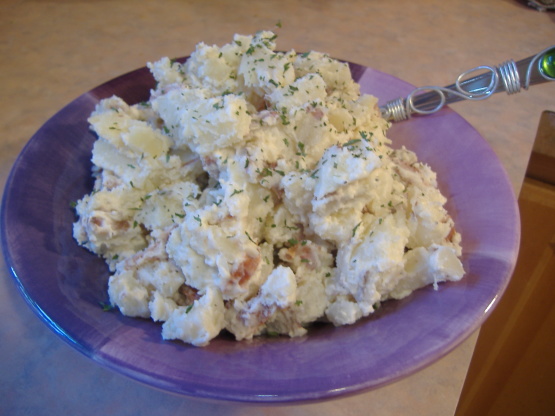 Andouille is sausage, southern style. You could probably use any spicy sausage. This dish is easy, very impressive, and a different take on potato salad. Great with barbeque sandwiches, or more "grown up" fare, like pork tenderloin. From the Turner South website (...a Southern station).

Top Review by vrvrvr
Wow! Great potato salad! My husband says it is the best potato salad he's ever eaten. I used 1/2 c. mayo and 1/2 c. sour cream, otherwise followed directions. Great flavor, yummy texture! Just the right amount of sausage to potatoes. Happy we found this one!
Preheat oven to 350 degrees.
In a small skillet cook andouille over low heat for 5 minutes, or until tender and cooked through.
Place potatoes in a small pot and cover with water.
Bring to a boil and cook for 10-12 minutes, until potatoes are tender.
Remove potatoes from pot and"mash" with a wooden spoon until lumpy, but not creamy.
Stir in andouille, sour cream, green onions, and garlic.
Season with salt and pepper, to taste.
Serve warm, or cold the next day.